1981 Yamaha XT 500
---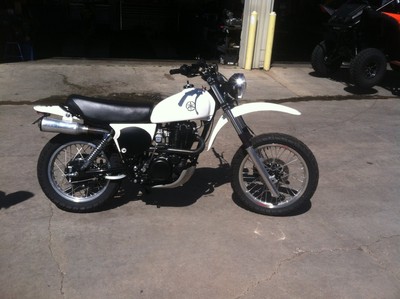 Bids: 4 Total Views: 0

Time Remaining:
Here's More About It:
HELLO, UP FOR SALE IS A YAMAHA XT 500 THAT I BUILT LAST YEAR. THE FRAME IS A 1981 XT 500 FRAME WITH A 1976 XT 500 SWINGARM. THE FORKS,TRIPLE CLAMPS,FRONT BRAKE ASSY. ARE OFF A 1984 KX500. CLARKE FUEL TANK WITH YAMAHA FUEL PETCOCK, ALUMINUM FUEL CAP. OEM YAMAHA SIDE COVER/NUMBER PLATES, OEM YAMAHA FRONT AND REAR FENDER FROM 1981 TT250. TAIL LIGHT AND PLATE MOUNT FABRICATED. AFTERMARKET SWITCH HOUSINGS,FRONT BRAKE MASTER CYLINDER. TRAIL TECH GAUGE ASSY. WITH MAGNET PICK UP ON ROTOR. SPEEDO PICK UP BRACKET FABRICATED. REX'S SPEED SHOP 12VOLT CONVERSION KIT INSTALLED. MODIFIED SUZUKI GS500 HEADLIGHT MOUNTS. HEADLIGHT FROM A 1980 XS400, MOTION PRO THROTTLE ASSY. CUSTOM BUILT CABLE TO LENGTH. 36MM MIKUNI CARB JETTED FOR 6K FEET ELEVATION. K&N CLAMP ON AIR FILTER ASSY. K&N CRANK CASE BREATHER. VINTAGE SPOKE DUAL FEED ROCKER OIL LINE. KX500 FRONT HUB LACED TO A 19 INCH EXCEL WHEEL, STOCK XT 500 REAR HUB LACED TO A 17 INCH WHEEL. NEW OEM YAMAHA CONNECTING ROD AND CRANK PIN. NEW OEM YAMAHA PISTON AND RING SET. NEW YAMAHA OEM INTAKE AND EXHAUST VALVES. NEW OEM YAMAHA CAM CHAIN GUIDES AND CAM CHAIN. NEW OEM YAMAHA MAIN BEARINGS. WITH THAT BEING SAID. I BUILT THIS UNIT AS A DAILY DRIVER LAST YEAR WITH PLANS OF KEEPING THE UNIT FOR SOME TIME. I HAVE ANOTHER PROJECT GOING AND WILL HAVE TO LET THIS ONE GO. I HAVE BUILT AND SOLD SEVERAL BIKE ON EBAY OVER THE LAST 20 YEARS. I HAVE BEEN A TECHNICIAN IN THE INDUSTRY FOR 25 YEARS. THIS BIKE AS ALL MY BIKES WAS TORN APART WITH THE FRAME, SWING ARM, BRACKETS, TRIPLE CLAMPS,ETC. POWDER COATED. I SPLIT THE ENGINE TO THE CENTER CASES AND INSTALLED A NEW CONN. ROD AND CRANK PIN, THRUST WASHERS. 1ST OVER PISTON AND RING SET FROM YAMAHA, NEW INTAKE AND EXHAUST VALVES AS WELL AS A NEW VALVE GUIDE FOR THE INTAKE . NEW VALVE GUIDE SEALS AS WELL. MODIFIED ROCKER ARMS WITH ELEPHANT FOOT TAPPET ADJUSTER. DUAL OIL ROCKER ARM FEED LINE INSTALLED. GOIN-WITH-THE-FLOW HEADER AND MID PIPE MEETS THE CLASSIC SUPER TRAP MUFFLER. MIKUNI 36 MM CARB WITH SOME JETTING CHANGES TO GET HER DIALED IN. BREATHING WAY OF A K&N AIR FILTER. THE WIRING HARNESS AND WIRING IS ALL SOLDERED AND SHRINK TUBED . I AM SURE THERE IS SOMETHING I HAVE MISSED SO IF YOU HAVE ANY QUESTIONS AT ALL PLEASE FEEL FREE TO ASK. THANKS, GREG
Where This Motorcycle Is Located
City » Broomfield
State » Colorado
Postal Code » 80020
Country » United States
---
Wondering If We Cover More of Your Dirt Bike Interests?
Find Out Right Now.