1970 Yamaha RT1 360
---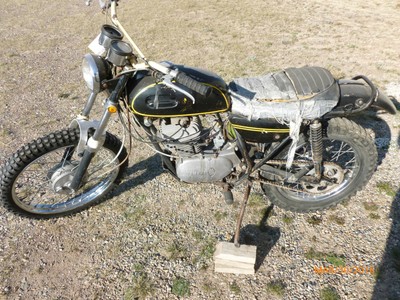 Bids: 20 Total Views: 0

Time Remaining:
Here's More About It:
There's really no sugar-coating the description of these two bikes: they're rough! But anyone looking for one of these knows that they are getting harder to find and prices are rising. Thankfully most of the NOS mechanical parts are widely available, including pistons, rings, bearings, seals, clutch, cables, carburetors, levers, decals, tank badges, seat upholstery, etc. I recently did a complete resto on a totally roached '71 Yamaha MX250 and it can be done for under $1500. The 1971 turns over freely, but the 1970 does not. I'll include an extra cylinder head and airbox as part of the deal. If you don't see it in the pictures, it's not included.The motorcycles are sold with a Montana Bill of Sale. I have decided to sell these classics to downsize and focus on other projects. Please ask any questions you might have now! If you win the auction, pay for the bikes, and come to pick them up and find that my description was not accurate, then I will refund your money (minus PayPal/Ebay fees). However, if you win it, pay for it and don't have it inspected before it is picked up by the shipper......the deal is final! There is no warranty expressed or implied. This is an as-is sale! Please be responsible about your bids. Don't bid if you don't intend to complete the purchase! Please be respectful and professional in our dealings, and I assure you that I will be the same! A $250 deposit from the winner is required, with the balance due via a money order/bank check, wire transfer or cash in person. Full payment is required prior to the bike leaving my property. I will not crate or ship the bike; that is the buyer's responsibility. I will assist the shipper with pickup at my location. As for shipping, try Cory Mehlhoff of CZC Trucking at (530) 518-9119. I do not personally know him, but in the past he has picked up at my house in Montana and transports with a specially-outfitted enclosed motorcycle trailer. Normal 0 false false false EN-US X-NONE X-NONE
Where This Motorcycle Is Located
City » Helena
State » Montana
Postal Code » 59602
Country » United States
---
Wondering If We Cover More of Your Dirt Bike Interests?
Find Out Right Now.