1968 BMW R-Series
---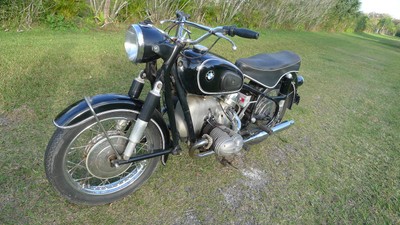 Bids: 0 Total Views: 0

Time Remaining:
Here's More About It:
Had to relist it. please make sure if you have to check with wife/cant afford it/dont have a clue what you are buying, Bike is in great condition, as you can see by the pictures. The guy I got it from had owned it since the mid 70s. He hadnt ridden it in the last 5 years, I cleaned the carbs, added gas, & it started right up & runs good, no smoke, funny noises, etc. Rides & shifts fine.Looks to be all original paint, and I see no evidence that its been wrecked. theres some rust, mostly on the chrome hubcaps, and the air filter cover.inside of tank is perfect, no rust, dirt, etc. I have no idea on the service history shipping is up to the buyer, but I can help arrange enclosed shipping anywhere in the US for 450.00, with an actual bike shipper, not some clown from u-ship with a 30 year old pickup loaded with goats. full payment due within 7 days, 500 deposit due upon purchase thru paypal the balance to be paid with a check, bank transfer, or cash at pickup. I dont mind storing it for a month if you want to come get it or arrange shipping email with any questions
Where This Motorcycle Is Located
City » Punta Gorda
State » Florida
Postal Code » 33982
Country » United States
---
Wondering If We Cover More of Your Dirt Bike Interests?
Find Out Right Now.