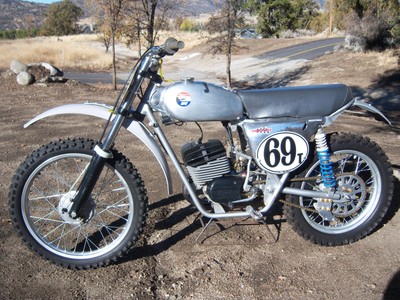 Bids: 4
Total Views: 1,783
Time Remaining:
If You're Selling A Dirt Bike...
We're Providing 100% FREE Exposure
We Use A Non Invasive, User Friendly Interface
You Get To Provide Only the Info You Want to Include
All Ads Are Human Moderated & Constantly Monitored
No Signing Up, Credit Cards, Email's or Passwords Required
Steadily Improving and Roosting the Competition Since 2009
Build Your Ad In Seconds Under More Privacy Than Craigslist or Cycle Trader
Here's More About It:
Where do I start on this bike, back in 1969 I raced one of these American Eagle 125s with the money I earned working at Motel 6 as a maintenance man after school.( These were the first real race 125s to be built that worked well because of the big bike frame) Over the past 50 of racing I've raced and built many (20 vintage race bikes in the last 27 years) First when I decided to build one, I couldn't find one to restore. I ended up finding a frame with a 250 motor from Arizona I could build from. Those of you that are familiar with the bikes can see many things are changed for the better. The bikes sold in England were sold under the Sprite name and look like this bike. This bike has the slim Aluminum tank, unlike the orange fiberglass U.S. model and the very rare thick cast aluminum side panel. The frame was taken to Dr. John's frame straighters in Anaheim, Ca to check the frame because the rear loop was bent to one side which they fixed along with lenghting the swing arm 1 1/4". Found a later model Zundapp motor to build ( later engines had many improvements for reliability over the early engines) with the advise of the late E.C. Birt I went through the motor to build a strong,reliable engine. The cylinder was one E.C. ported some years ago and sold to me, I took the porting specifications and used FMF software to build a one of a kind expansion chamber( Magnum Engineering) for this porting. Along with a more modern Wossner piston/ Bosh electronic ignition/32mm Bing Carb. Front wheel is a early Yamaha MX with alloy rim, the forks are 35mm reinforced Husqvarna with the large I.D. damper rods/race tech emulator valve to control damping/Race Tech springs/Renthal Bars/Magura throttle/Preston Petty fenders/Triple clamps are REH American Eagle with custom made dished head Titanium bolts/ aluminum fender brace Rear wheel is a Yamaha AT-1 hub & brake with a Sun aluminum rim. Aluminum rear sprocket mounts with specal aluminum bolts. Rear axel is specal made ,one of a kind aluminum T-6 with Titanium nuts/ swing arm pivot specal made T-6 Aluminum/ rear shocks 14 1/4" Ohlins I built with light damping and works performance dual rate springs/shock bolts & nuts are Titanium/ specal made chain guide with aluminum fixing bolts/428 Regina gold chain/ expansion chamber large rear bolt & nut Titanium/ seat was made from hard Honda CR foam and cut down to fit a modified fiberglass seat base to flow into the lines of the bike to the tank. ( very confable to sit-on ) I used modern wide Trials foot pegs on the bike, it also modified a rear brake foot lever from a early 1980 Husqvarna to work with the Yamaha rear wheel. Now you say "Why do I want to sell it? well I also built another Classic 125 with a Zundapp engine(Rickman) a year after I finnished this bike and prefer it's handling.Dare to say you will not find a better set-up American Eagle in existence, I have never seen or herd of one racing in AHRMA in the last 25 years of my membership. The people that do have in their collection, the bikes don't even run. (just a prop to look at) The bike was raced in 5 races from late 2011 to 2012, I recall it took hole shots in most of the races, even aginst larger bikes. The bike stops/starts/handles/shifts better than the original. I've put a lot of time into building/testing the bike, please do not ask non-pertinent questions if you have no intention to buy. I will not give the bike away but the bike will be priced similar to'say 1974 Honda 250 CR restored. There is No Title with the bike only a Bill of Sale for the buyer. No warranty on bike once bike leaves premises. International buyers will need to make there own arrangements for shipping/ U.S. buyers, I might be able to take to a forward air location for agreed sum of $ or you can Pick- Up at my house in Stallion Springs, Calif. and ride before you buy. $1,000 will need to be deposited to my Pay-Pal account 48 hours after bidding ends. The last picture is of my American Eagle in 1969 at Poso Creek, Calif. when I was 17.
Where This Motorcycle Is Located
Tehachapi » California » 93561