1975 Honda CR 125
---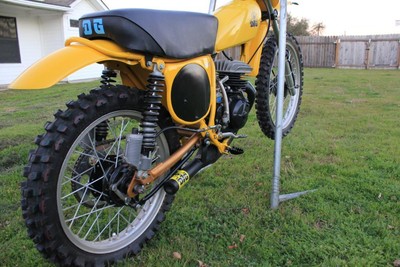 Total Views: 0

Time Remaining:
Here's More About It:
UP FOR SALE IS A 1975 HONDA CR125M ELSINORE DG RACER REPLICA I BOUGHT FROM A GOOD FRIEND OF MINE RON CARBAUGH ABOUT 5 YEARS AGO. IT SITS IN MY OFFICE JUST COLLECTING DUST AND THOUGHT SOMEONE ELSE CAN ENJOY IT MORE THEN I SO HERE IT IS FOR SALE. FULLY RESTORED IT ALSO INCLUDES ANOTHER TANK AND CYLINDER HEAD AS SHOWN IN THE LAST PHOTO, AM EVEN INCLUDING THE MARK CHARLES BIKE STAND!! This 1975 Honda CR125 has been totally restored and modified with a whole lots of DG Racing performance parts, just like the actual team bikes would have been run back in the day. Bare aluminum components were polished, as was the rear sprocket, and the swing-arm is another DG part. DG Exhaust is a NOS part. There was a write up on the bike years ago(2011) that I can send thru email. Ebay won't allow me to add a link.. ANY QUESTIONS PLEASE CALL ME OR TEXT ME AT 512 348 1010 BUYER IS RESPONSIBLE FOR PICK UP AND DELIVERY. Bike is being sold locally so seller has the right to close auction at any time
Where This Motorcycle Is Located
City » Kyle
State » Texas
Postal Code » 78640
Country » United States
---
Wondering If We Cover More of Your Dirt Bike Interests?
Find Out Right Now.