1969 Bultaco Sherpa T 250
---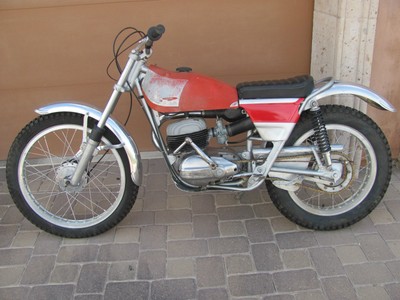 Bids: 4 Total Views: 0

Time Remaining:
Here's More About It:
As I purchased the bike 11 years ago from the Sales Mgr of our local BMW dealer, it had been partially restored. It had a repainted frame, new tires, grips, bars, and supposedly a rebuilt engine, It started too easy, idled too smooth and had no power. I found that it had new points but the timing was very retarded. I have set that with the proper feeler gauge and rebuilt the carburetor back to factory settings. (I have not run it since. ) It now has strong compression, rebuilt front forks, like new tires, and great OEM fenders. It comes with two tanks and three under seat fiberglass parts. (As purchased by me 11 yrs ago, it had a tank that worked but was not correct and a torn up under seat glass.) I found the correct tank and new under seat glass, and also had purchased a used under seat glass before finding a new one. The heat shield needs to be moved to the new glass, and the correct tank painted to match. In this way, you could have a riding set and cherry painted set to swap out between showing and riding. (I think that the other tank maybe is from a Sherpa S and is about 3/8" shorter, see pictures for gap, but it works.) The primary and ignition cases are in very good shape for its age with scrapes but no big dents or cracks. I have just filled the trans and primary with correct fluids and installed a new seal on the primary case shift shaft, so it should be ready to fire up once the tank is refinished. (It only comes with one correct fuel valve) Also included are an original owners manual, Bultaco factory Parts Manual, and Clymers repair manual, and NOS factory tank emblems for when the tank is painted. Mileage is unknown.This is a matching numbers engine and frame bike in great shape with not much left to do to make it ready to ride in classic trials or just show it. Hey, the parts alone are worth more than my starting bid!Please ask any questions before bidding. (Also shown is myself in 1970 on my first Sherpa, (same, but not this one) and I am simply too old an arthritic to ride again.)
Where This Motorcycle Is Located
City » Tucson
State » Arizona
Postal Code » 85737
Country » United States
---
Wondering If We Cover More of Your Dirt Bike Interests?
Find Out Right Now.