1972 BMW R-Series 750
---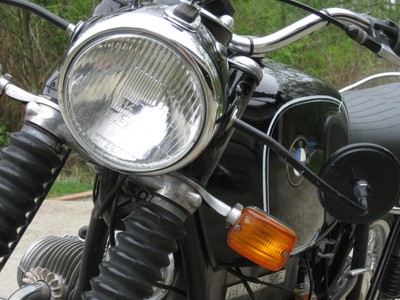 Bids: 20 Total Views: 0

Time Remaining:
Here's More About It:
BMW R75/5 R-Series This is a true turn-key bike, the bike is ready for the 2016 riding season. Bike Year 1972VIN 2987907 Bike Odometer 58814 I have just recently disconnected the bike from my Velorex sidecar (http://www.velorexusa.com), after putting about 150 miles on a new (used) 4 speed transmission. The bike runs true, smooth and is a wonderful ride, time after time; the only reason that I am selling the bike is that I am thinning my garage out. As the photos show, I have completed maintenance and tune up on the bike; at any price you won't find a better bike. The bike has the following items that are new and/or recently installed on the bike:Tires: Front and Rear – Bridge stone Trail Wing Front TW101 100/90-19, Rear TW42 120/90-18 Tires: Motorcycle Tires Tubes, front and rear Seat: BMW Complete Fluted Seat R75/5 SWB 1969 - 1972 NEW Transmission: New (used) 1972, 4 Speed With Kick start Battery: Powerstar PS-NH 12-18 comes with a two year warranty (purchased March 06, 2016), this battery replaces the Westco batteries. Battery Mat: acid absorbent and neutralizer Battery Tender (cable) with fused ring, quick connect harness Clutch cable: With a longer length for the High handlebars installed Handlebars: High or original Switch, Front brake light Replaced during maintenance: Gas tank, mounting rubber Gas line, complete Gas line, fuel filter, in line with magnets Filter air, carburetors Filter oil, element Oil, Engine – SAE 30, with magnetic oil drain plug installed Oil, Transition - with magnetic oil drain plug installed Oil, Drive shaft Oil, Final drive - with magnetic oil drain plug installed Spark Plugs BP6ES Rubber Cap, Control cable, Boot break Rubber, cable cover, Front brakes Normal 0 false false false EN-US X-NONE X-NONE
Where This Motorcycle Is Located
City » Anacortes
State » Washington
Postal Code » 98221
Country » United States
---
Wondering If We Cover More of Your Dirt Bike Interests?
Find Out Right Now.