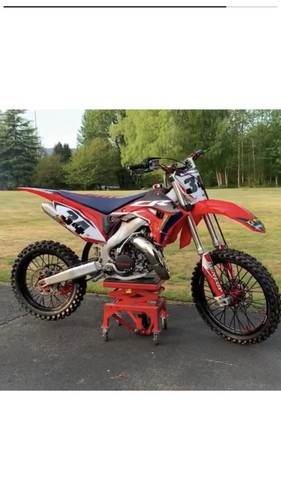 Total Views: 1,147
Time Remaining:
If You're Selling A Dirt Bike...
We're Providing 100% FREE Exposure
We Use A Non Invasive, User Friendly Interface
You Get To Provide Only the Info You Want to Include
All Ads Are Human Moderated & Constantly Monitored
No Signing Up, Credit Cards, Email's or Passwords Required
Steadily Improving and Roosting the Competition Since 2009
Build Your Ad In Seconds Under More Privacy Than Craigslist or Cycle Trader
Here's More About It:
This is a completely restored 2003 Honda CR125R that has been designed to look and perform like what a brand new 2020 Honda CR125R would have been like if Honda had continued making them. The bike was boughten off of classifieds and then torn down to the frame. I will try and include a good amount of what was done to the bike in this listing but if you want to watch the project take place before your eyes I have several videos up on youtube documenting the process. This bike rebuild has become pretty famous on youtube and Instagram getting over 5 million views across both of the platforms. Entire bike rebuild montage- https://youtu.be/4UamoVQtf7U ( You can either paste this link into your search engine or just type this into youtube- The Ultimate Dirtbike Transformation Timelapse). Entire engine rebuild- https://youtu.be/XKoiAnFf1UI ( or type the title into youtube- Building the Ultimate Two Stroke Engine.) The first step after tearing down the bike was to clean. the frame was cleaned using scotch Brite, aluminum wheel cleaner, and then lightly polished. The frame was intended to stay with a beautiful and easy to maintain the brushed finish. Frame cleaning supplies- 45.00 Estimated labor- 4-6 hours After the frame, I moved onto the wheels. I tore the wheels down to just the wheel hubs. The wheel hubs then had there casting marks removed with a Dremel tool and then were powder coated in a beautiful two-layer Dazzling red. The wheel was then laced up with a fresh set of spokes with anodized nipples and a set of black warp nine racing wheels. The finishing touch was completed with a set of brand new Dunlop geomax tires. Wheels- Warp nine wheels- 94.99 x 2 = 189.98 Spoke Sleeves- 20.00 Bearings rear- 19.99 Bearings front- 16.99 Tusk Rim lock red bling- 20.00 Rubber valve seals- 2.00 Tire mount lube- 2.50 Dunlop geomax front tire- 75.78 Dunlop geomax rear- 85.72 STI extreme duty motorcycle tubes rear- 13.97 STI extreme duty motorcycle tubes front- 12.97 Wheel hub powder coat- 40.00 Rear axle block- 18.99 Spokes with red nipples front and rear 68.39 x2 = 136.78Estimated labor 10-20 hours Total- 656.67 Next up was the Engine. The engine was the piece of the bike with the most time and dedication to make it as perfectly functioning as possible. ( I highly recommend you check out the engine video above because there's to much work for me to describe everything on here). Engine- Lectron Carb 467.00 Phat head racing 300.00 FMF fatty pipe- 224.99 Muffler connecting seal- 12.00 New silencer- 127.54 V-Force 3 reed Valves- 141.99 OEM seals- 61.13 Shift Pedal- 19.99 No toil pre oiled air filter- 16.99 Radiators- 89.00 Tusk clutch plates- 48.20 Radiator hoses- 24.00 x 3 Wrench rabbit engine rebuild kit- 404.96 Cerakote- 35.00 Oem parts- 10.54 Oem parts- 24.68 Oil plug- 9.99 5 gallons race gas- 45.00 Coolant- 10.00 Original FMF silencer- free Assembly lube- 5.00 Estimated labor 30-50 hours Total- 2,078.00 The drive system was beefed up with a new O-ring chain, and improved brand new front/ rear sprockets. Drive system- Front sprocket- 8.99 Primary drive x ring chain- 66.07 Mika metals rear sprocket- 69.95Estimated Labor 1-2.5 hours Total- 145.01 The Suspension & Steering systems were completely gone through. The rear suspension was upgraded to that of a 2017 crf250r including a new rear swing arm and shock. The steering stem bearings were replaced and the triple clamps were cerakoted. ( a high-performance ceramic coating). Suspension and steering- Linkage bearing kit- 75.40 Upper shock bearing- 20.22 Upgraded rear swingarm and parts needed with it- 700.00 Upgraded rear shock- 750.00 Powder coating on shock- free Cerakote- free Shock fluid- 15.00 Grease- 2.00 Labor- 5-10 hours Total- 1,562.62 The Bars and controls were all replaced with new performance parts. Bars and triple clamps- Clutch cable- 14.60 ASV brake away clutch lever- 114.99 Tusk aluminum gas cap- 29.99 Steering stem bearing kits- 45.22 Billet start-stop switch- 13.99 New throttle housing cover- 17.28 Pro Taper grip glue- 7.99 Motion pro throttle tube- 8.09 Lock-on grips- 23.99 Pro taper bars- 67.50 Labor- 1-3 hours Total- 343.64 The body was upgraded to look like a 2019 honda, The seat is a custom racing seat cover, and some beautiful chrome tinted graphics. Plastics- Polisport restyle kit- 103.99 Radiator air guides- 24.99 Cycra rear mud flap- 11.99 Graphics- 185.00 Polisport lower fork guards- 23.99 Throttle Jockey Seat Cover- 100.00Estimated labor- 1-3 hours Total- 449.96 Miscelaneous- Pryme mx cleaning wheels- 30.00 Scotch brite/ dremel bits- 45.00 Oem- 200.00 Bolt kit- 40.00 Shipping- 300.00 original bike- 900.00Tax- 1000.00 Total- 2515 The bike also runs off of racing fuel but can be changed to run off of any octane desired with the other four phat head racing domes that will come with the bike. The bike also comes with an extra rear shock, A freshly repacked spark arrestor silencer, and a bunch of hardware for the track. Since all of this has been done to the bike it only has 2 hours on it to verify that everything was working perfectly for the new owner.
Where This Motorcycle Is Located
Maple Valley » Washington » 98038