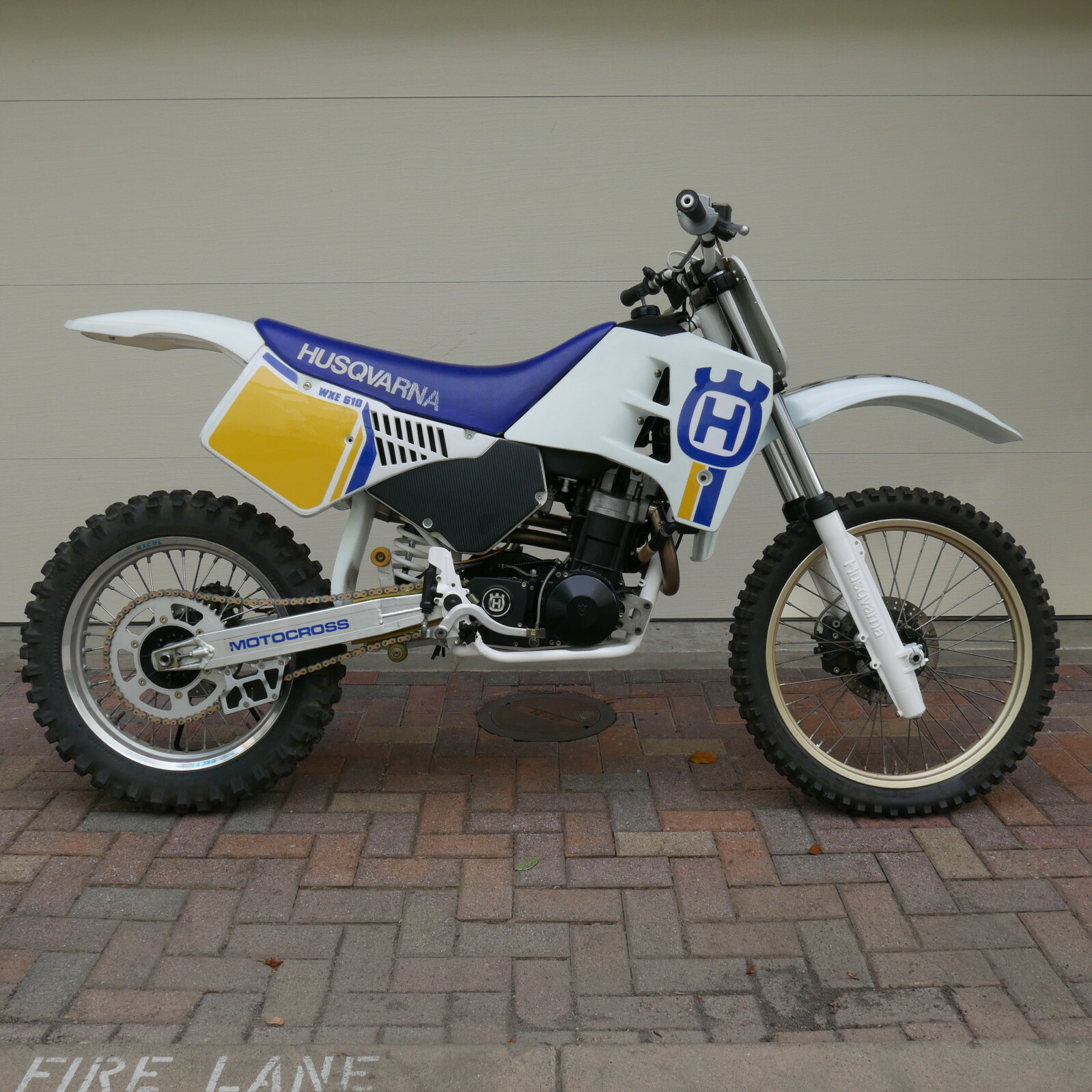 Total Views: 545
Time Remaining:
If You're Selling A Dirt Bike...
We're Providing 100% FREE Exposure
We Use A Non Invasive, User Friendly Interface
You Get To Provide Only the Info You Want to Include
All Ads Are Human Moderated & Constantly Monitored
No Signing Up, Credit Cards, Email's or Passwords Required
Steadily Improving and Roosting the Competition Since 2009
Build Your Ad In Seconds Under More Privacy Than Craigslist or Cycle Trader
Here's More About It:
First off - this motorcycle has a clean California title. Currently non-opd, since it has not been used since restoration, aside from periodic running to keep the engine lubricated. Ok, Here we go. Most of you on ebay will have no idea what you are looking at here, so here is a little background. Once upon time back in the 60's, 70's, and 80's there was a little motorcycle company in ice cold sweden that produced world-championship hand-made racing motorcycles for sale to the public. Enduro, motocross, baja races, you name it and Husqvarna won it (which is pronounced Hoosq-varna, not husk-a-varna by the way). The beauty of the brand was the manufacturing process - most of the bikes shared all the identical parts, including frames, swingarms, suspension, brakes, engine blocks and internals, everything except cylinders and carbs. Since everything was standardized and made to very high racing standards using all european parts such as highest quality german-made forged aluminum Mahle pistons, Ohlins suspension, and Brembo brakes for example, Husqvarna was able to make these race bikes affordable for the public (though compared to the jap bikes of the era, they were expensive, but still cheap for bona-fide racing motorcycles). Okay, so in the 80's, Husky decided to modernize their lineup of motorcycles to compete with the jap bikes which were steadily improving by that time. Husky went to an all-white color scheme reflective of their heritage from snowy Sweden, and with their logo and stripes being of the Swedish flag. By that era, Husky developed their water-cooled, single shock models with Brembo disk brakes, and at long last came out with their revolutionary 4-stroke model 510. In keeping with Husqvarna's supremely efficient heritage, they decided to bolt a 4-stroke top-end on their two-stroke crankcase, albeit with provision for the cam chain. Remember, however, that 2-stroke cranks dont run in engine oil - they are lubricated via gasoline vapor laden with premix oil. So guess what, Husqvarna devised a similar reed-valve lubrication system to feed oil vapor directly to the crank, thereby freeing the crank from the friction of running in oil, and simply relied on splash lubrication for the top end instead of an oil pump. The result was a 4-stroke that revved like a banshee with instant throttle response. Husky also designed the engine without a counterbalancer, which greatly increased the torque rating of the engine (and corresponding earthquake-like vibration). The result was a 50 horsepower 4-stroke engine that revved to 8000 rpm - unprecedented in the 1980's - and the bike decimated all other 4-stroke competition. Then disaster. Hard economic times worldwide in 1986 left Husqvarna short on cash, and with the japs quickly gaining ground in their own technology, Husky was approached by Cagiva Motorcycles of Italy, which eventually acquired the Husqvarna brand by the end of 1987. By 1988, Husqvarna of Sweden had closed its doors and al the left-over parts from the 87 model year were used to produce one-last batch of genetically Swedish Huskies for 1988, using all swedish parts, except for the Italian-made Acerbis plastic. Cagiva then produced some Frankenstein models for 1989 and 90, which were essentially cagiva 2-stroke models re-badged as Huskies. Gone forever were the Swedish legendary two-stroke bottom-end designs with characteristic gun-sight clutch covers that graced Huskies over the previous 15 years or so. But then a glimmer of hope in 1991. It was in that year, that evidently someone at Cagiva remembered that they still had a warehouse full of left-over swedish-made Husky frames and swedish 4-stroke engine parts. So, for 1991, Cagiva introduced the 610 version of the famous Husky reed-valve lubricated 4-stroke, producing 57 horsepower from a 10.2:1 compression ratio breathing through a 40mm DellOrto, and delivering gobbs of torque via the same exact Swedish-made crankcase, mounted in genuine Swedish-hand-made backbone frames. There was just one problem, which was by that time the world had gone to 17 digit VIN numbers, and the frames all had the old 8-digit VINs - so Cagiva welded metal plates over the old VINs to accommodate the new numbers - hence the proof of the Swedish heritage of the 91 huskies, along with the original-style bottom end. Cagiva then dolled-up the 91 models with new graceful Acerbis white plastic and Swedish flag decals, reminiscent of the 80's era bikes (which my generation used to affectionnately refer to as 'milk trucks'), and all new American-made 'white power' suspension front and rear, rolling on Excel rims. Awesome - the almightly Swedish brute motocrosser was back, complete with the original design gunsight clutch cover on the two stroke bottom end that graced the previous 15 years of Husqvarnas. But not for long - in typical Italian fashion, and in accordance with the style of the 90's, Cagiva started to adulterate the 610 as early as 1992 and all subsequent years beginning with Showa suspension, Nissin brakes, and then all manner of awful fluorescent colors & splashy graphics, and significant changes to the engine and drive train which at first diluted and ultimately extinguished all traces of Swedish pure-bred racing heritage, longevity and simplicity of design. The so-called 'improvements' included aluminum clutch basket with fiber friction plates (instead of the sintered bronze friction plates), left-hand chain drive, right hand kickstart, counterbalancers, oil pumps, fuel injection - all of which added serious weight to the bikes and made them indistinguishable from the jap bikes. Of course, by now you probably know the rest of the story - the Husqvarna brand was eventually sold off to MV Agusta, BMW, and KTM which simply capitalized on the Husky name recognition and awesome logo, but went on to produce unremarkable (if not still expensive ) bikes with engine designs reminiscent of the backside of refrigerators, and that were indistinguishable from other 'modern' motocrossers. The only thing a new Husky has in common today with the thoroughbred Huskies of the past is the gunsight logo and name. So what it a true Husqvarna enthusiast to do? Well, if you have read this auction description this far, you are probably of Generation X or older and are longing for the Huskies of yesteryear (and now have the money to invest in the Husky you couldn't afford back then). Well then, this could be your chance to finally obtain what is probably the absolute last model year of truly Swedish Husqvarna Heritage - the 1991 WMX 610. While produced by Cagiva, this bike is almost entirely Swedish in origin, as described above, and the 1991 WMX model is perhaps the rarest of all Huskies (save for the 1983 original air-cooled 4 stroke, which is the holy grail perhaps worth 50K today in new condition). The plastics on this particular model were only produced for that year, which along with the last year of the all-Swedish two-stroke bottom end, make it a rare species indeed. I would be surprised if Cagiva even produced a hundred of these bikes worldwide that year, which was 28 years ago by the way. I have never seen another one of these in person, and good luck trying to find one elsewhere on ebay or craigslist. So in my own quest to finally have what I could not afford back then, I systematically bought up all the 1991 610 Huskies I could find in California over the last 10 years (only could find 4 of them, and of those only a SINGLE WMX), and restored them all. This particular one I am offering for sale here, I bought as a barn find in Santa Cruz California, where it was undoubtedly purchased from the Moore and Sons Husky dealer way back when. The bike had been traded to a contractor by the original owner in exchange for some construction work, who then posted it on Craigslist after which I immediately bought it. The original owner let it sit for about 24 years after buying it, just because he couldn't start the bike. That said, in case you dont know, these bikes are not hard to start, but you have to know EXACTLY how to do it - which along with this free lesson on Husqvarna geneology you are reading, I will teach you to do myself. This bike starts right up and runs perfectly, blows no smoke, and has matching frame and engine numbers by the way. You will absolutely love the growl of the handmade racing muffler. While the bike was in very poor external condition when I bought it, I removed the clutch cover and found the internals to be in new condition, and seemingly never run. Therefore, I proceeded to completely disassemble the bike for full restoration. Here is a list of the tasks performed: 1. Powder coated the frame, shock spring, handlebar, magneto cover, and footpegs - the triple clamps have been professionally painted. 2. Cleaned and re-painted the engine (NOT disassembled - no need, was in new condition internally). NO OIL LEAKS! 3. Cleaned and tuned the original 40mm DellOrto carb - miraculously was NOT corroded! Reassembled with all new gasket kit. NO LEAKS! 4. Replaced all the plastics (except the black tank) with both new and used pieces. The graphics on the left radiator panel are from the 92 model year, and will be replaced to match the original right side graphics upon sale. The rear fender is NEW genuine Husqvarna part - this has to be the single most rare piece of Husqvarna plastic on the entire planet - bought from a dealer in Italy - cost me $300 and took a month to arrive. 5. Had all new graphics professionally printed - you may note the number plates say WXE610 - the plates installed are from another 610 I have - this bike will come with restored WMX graphics - see last photo. 6. Replaced the WP front-end with 1980's era genuine Husqvarna right-side-up suspension having the final Swedish version floating twin-piston Brembo brake, powder coated stanchion tubes with the Husqarvna brand forged into the castings, and new seals and dampening valves installed (the original upside-down white power suspension comes with the bike). These are actually genuine Husky long travel motocross forks from 1987 - they have spacers in them to lower the seat height - can be removed easily. 7. Installed a super-mega-ultra-extra-hyper rare genuine Acerbis racing front number plate - you likely have never seen an Acerbis number plate of this style, and you will likely never see one again, period.8. Polished the existing stainless exhaust headers and racing muffler to death - this model even has the uber-rare 'terminal-pipe' still attached to the shortly racing muffler. Most cretins would have replaced this stock racing muffler with some 'answer' brand crap - if you insist on riding this WMX beyond the racetrack, the bike comes with the appropriate Answer spark arrestor to fit over the 'terminal pipe' to make the USFS happy. 9. Reassembled the bike with as much new genuine Husky hardware and rubber bits as I could find from dealers all across the country - including a brand new rear brake pedal, and handlebar levers with perches! 10. Installed a new countershaft sprocket and chain - the rear sprocket is original, and has NO wear, again indicating the bike was never ridden by the original owner. The bike will be sold with a straight chain rather than the horsepower robbing O-ring chain pictured in the auction photos. The chain guide is original and in excellent condition. 11. Replaced the radiators and hoses with new-old-stock units - I bought the last ones on the planet.12. Fitted new genuine Husky chain rollers and chain rub pad. 13. Serviced with Belray coolant and 20w-50 4-stroke oil - only the best.14. Removed the stock automatic decompression mechanism, but still have ALL the pieces and cables for you to reinstall if you wish. There is more to say about the wonders of this bike, but by this point in reading this auction, you have either been evangelized into believing what I have to say about the 1991 WMX 610 . . . or not, in which case you can move on to the next mass-produced watered-down genetically-modified organisms that are the current so-called Husqvarnas. So what is left to do on the bike? Well, it could benefit from some new matching wheels, but that's about it. Some nice gold-anodized (just like the 80's bikes), 3.5 inch wide Sun Rims wearing super-moto tires would transform this bike into the super-hero mount it could be. This was my plan for the bike before needing the money to invest in some real estate I have my eye on. For those of you wondering what kind of offer I might accept, I would consider offers of $6,750 and up. Forget pricing the bike on KBB or NADA. This is a one-of-a-kind fully restored AHRMA motocrosser, and will only increase in value. Where else on the planet will you be able to find the last remaining genetically Swedish Husqvarna 610 rescued and rebuilt by an avid keeper of the faith? No where. . . This bike was probably 6K brand new back in 1991, so $7,500 or reasonable best offer is not a stretch. So go ahead and send me any questions you have via the ebay contact seller function, and I will further educate you about all things Husqvarna. Lastly, the bike comes with a large box of spares - mostly old used parts, but worth their weight in gold as the parts are no longer available. I also have some newer and brand new Husky parts for this model that I will be selling separately on ebay. Thanks for looking and ride-on! Geneology Update - After reviewing my photos of this bike in its original state before restoration, it turn out this bike was actually sold as the WMX600 NOT 610 according to the numberplate decals . . . again, for those of you who dont know, all Husky 610's were actually 510 models with a big bore kit bumping up displacement to 577cc - but they 'rounded up' for marketing purposes. Furthermore, they were sold as either '600's' or '610's' depending on the destination market and associated sales tax brackets and/or any tariffs that might have been in place in the 1990-91 model years. This fact that the bike originally came with 'WMX600' decals suggest the bike was actually produced in 1990 instead, which combined with the original VIN having been welded over and stamped with the then new style 17 digit VIN which was instituted in 1991, would make this bike an even more rare find - that it could even have been produced for sale in 1990, and not having been sold to a dealer for resale in that year, and was therefore sold and titled in 1991 with the WMX600 decals still in place. All internet reports and discussions with Husky gurus in Southern California indicate the 1989 and 90 model years were the most scarce, further adding to the value of this bike if its geneology could be further traced to production in 1989 or 1990.
Where This Motorcycle Is Located
San Jose » California » 95110